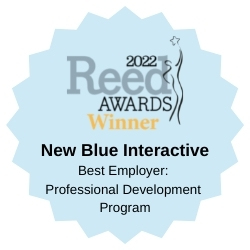 Click here to apply: newblueinteractive.com/apply
All positions are currently remote, with the option to remain permanently remote. NBI accepts applications on a rolling basis.
About NBI
We believe that progress doesn't happen on its own. Success takes hard work and it takes good people to make it happen. If you care deeply about fighting for the future of our country and the power of digital to influence the outcomes, you can be one of those people. Our motto, Amplifying Your Voice To Make Good Happen, doesn't refer just to our clients, but also to our staff. Our team is passionate about electing Democrats, perseveres to ensure their success, and in the process is making history up and down the ballot and in all 50 states.
As a woman-owned and founded company and a proud union shop in the technology space, we have been forging the way for courageous, ambitious, committed individuals from all backgrounds, races, religions, abilities, and sexual orientations to change the world for the better. What New Blue employees have in common are our values, which guide how we approach our business as well as our relationships with each other: agility, integrity, innovation, community, and success.
We offer our staff the tools and training to ensure their success at NBI, work equipment for home offices, and remote technical support. We also invest in professional development with ongoing internal training and the opportunity for external training.
New Blue Interactive Senior Account Manager functions as a supervisory position. Senior Account Managers are a part of the NBI account team and will be the account lead on several clients, therefore industry experience is required. Senior Account Managers role can include direct supervision of teammates. This role leads the strategy for their accounts and manages their client teams with some supervision from more senior members of the Management team. Senior Account Managers direct the email calendar, help clients grow their program, oversee data management/analytics and reporting, liaise with the Ads department as needed, produce email content, load/send emails. They are responsible for their clients' digital programs, ensuring adherence to the New Blue Way, and ensuring clients' goals and objectives are being met with some supervision from more senior members of the Management team. 
Relevant Skills
Must have a passion for progressive causes and Democratic candidates and want to be a part of an award-winning team.
Candidates will ideally have 3+ years of relevant experience.
Experience managing multiple clients with varying voices and experience running acquisition, texting and direct to donate campaigns.
Direct Client relations experience and ability to communicate effectively with varying types, size and style of clients at once.
Strong communication, leadership and team management skills.
Shows strong problem-solving skills, and ability to change direction if needed.
Eagerness to "always be learning" and able to learn quickly and on the fly.
Ability and enthusiasm to train others and help others learn on the job.
Thorough knowledge and hands-on experience drafting, loading and sending emails from broadcast CRMs like NGP/EveryAction, Action Network, Action Kit, Salesforce Marketing Cloud, etc.
Need to have a keen eye for detail and an excellent ability to proofread.
Strong writing skills and ability to adapt to different styles and voices.
Experience with data management using Excel, Google Sheets, databases, etc.
At least some experience performing data uploads/management, data hygiene and maintenance for clients to ensure best deliverability.
HTML required, CSS experience a plus.
Thorough understanding of how to use ActBlue.
Thorough understanding of ref codes and naming conventions.
Experience performing data hygiene and maintenance for clients to ensure best deliverability.
Experience with list growth avenues and costs, and properly orchestrating list growth to ensure strong return on investment.
Experience with Canva and/or Adobe design products is extremely helpful.
Experience managing a social media account (Facebook/Instagram/Twitter) is preferred.
Experience managing broadcast and peer-to-peer texting preferred.
Day-to-day duties include but are not limited to
Lead and be accountable for overall digital vision for multiple clients, often with some supervision/oversight from more senior members of the Management team. This is a supervisory position.
Supervise client team members and manage staff, interns and contract consultants to ensure the best work product is delivered to clients.
Join in weekly New Blue Senior Staff meetings.
Ensure adherence to the New Blue Way, including weekly reports that are accurate and promotional of NBI work.
Lead weekly conference calls with clients and join consultant calls where appropriate.
Provide guidance to clients on list growth avenues and costs.
Create accurate projections for clients in consultation with higher-level senior management staff.
Ensure that content is proofread and free of typos and other technical errors.
Write copy and handle production when necessary including but not limited to: producing HTML samples in multiple CRMs, creating landing pages for fundraising and petitions, managing data and creating/updating/maintaining client-specific checklists.
Work with client and client representatives to ensure client satisfaction in all areas including strategic direction, client voice, client-specific likes and dislikes and fine-tuning and editing work product.
Perform data hygiene and maintenance for clients to ensure best deliverability with consultation from higher-level senior management staff.
Responsible for developing list growth opportunities for clients by providing guidance on list growth avenues and costs and by utilizing list rentals and other list acquisition strategies in consultation from higher-level senior management staff.
Track metrics and manage analytics for delivery to clients.
Work in conjunction with the Ads department to ensure that the client product includes ads of the highest caliber.
Manage peer-to-peer (P2P) texting programs as needed.
Manage SMS Broadcast Texting Program as needed.
Work in conjunction with the graphic design department to ensure that the client product includes graphics of the highest caliber.
May utilize social networking platforms to deliver client messaging and for other purposes.
Thoroughly understand and utilize Google Team site for document sharing.
Participate in/lead training seminars and/or webinars as required.
Mentor and educate NBI staff on best practices, client messaging strategies and other essential skills.
Track breaking news and topical issues for use in client messaging.
Perform other duties as assigned by management.
Equal Employment Opportunity
NBI provides equal employment opportunity (EEO) to all employees and applicants for employment without regard to race, color, religion, gender, sexual orientation, gender identity or expression, national origin, age, disability, genetic information, marital status, amnesty, or status as a covered veteran in accordance with applicable federal, state and local laws.
New Blue Interactive does not and shall not discriminate on the basis of race, color, religion (creed), gender, gender expression, age, national origin (ancestry), disability, marital status, sexual orientation, or military status, in any of its activities or operations.
Salary range $88,000+ based on experience. Raises and bonuses are also available.
In addition to holidays, vacation, sick and other applicable leave, New Blue offers a generous benefits package for full-time employees. This position is not part of the bargaining unit.
All remote locations within the US are eligible, but a preference for: California, Connecticut, District of Columbia, Georgia, Illinois, Kentucky, Maryland, Massachusetts, New Jersey, New York, Pennsylvania, South Carolina, Virginia, Washington, Wisconsin.
To Apply: newblueinteractive.com/apply