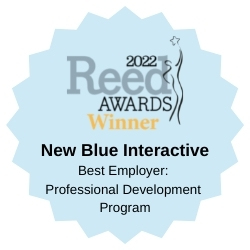 Click here to apply: newblueinteractive.com/apply
All positions are currently remote, with the option to remain permanently remote.
About NBI
We believe that progress doesn't happen on its own. Success takes hard work and it takes good people to make it happen. If you care deeply about fighting for the future of our country and the power of digital to influence the outcomes, you can be one of those people. Our motto, Amplifying Your Voice To Make Good Happen, doesn't refer just to our clients, but also to our staff. Our team is passionate about electing Democrats, perseveres to ensure their success, and in the process is making history up and down the ballot and in all 50 states.
Digital can be the difference between success and failure, and we believe in making smart, strategic, personalized digital available to all candidates, causes, and non-profits doing good in the world. We combine digital marketing expertise, innovative and creative, nimble fundraising, and agile community building to deliver high-impact results so our clients can do the good work.
As a woman-owned and founded company in the technology space, we are proud of forging the way for courageous, ambitious, committed individuals from all backgrounds, races, religions, abilities, and sexual orientations to change the world for the better. What New Blue employees have in common are our values, which guide how we approach our business as well as our relationships with each other: agility, integrity, innovation, community, and success.
We offer our staff the tools and training to ensure their success at NBI, including a monthly technology stipend, work equipment for home offices and remote technical support. We also invest in their professional development by devoting 10-20% of our overall operating budget to ongoing internal training and giving our team members access to an annual professional development budget for external training.
New Blue Interactive Digital Strategists function as part of the NBI account team. Digital Strategists work on multiple clients with multiple team leads and may be the account lead on some clients, therefore some industry experience is preferred. This role both executes and manages depending on the client team. Digital Strategists produce email content, load/send emails, handle data management/analytics and reporting, as well as regularly interfacing with clients.
Relevant Skills
Must have a passion for progressive causes and Democratic candidates and want to be a part of an award-winning team.
Qualified applicants should have hands-on experience drafting, loading and sending emails from broadcast email CRMs like NGP/EveryAction, Action Network, Action Kit, Salesforce Marketing Cloud, etc.
Ability to manage multiple projects, deadlines and team leads.
Experience "keeping the trains on time" – leading projects with multiple elements and deadlines.
Strong communication and teamwork skills.
Shows strong problem-solving skills, and ability to change direction if needed.
Eagerness to "always be learning" and able to learn quickly and on the fly.
Willingness to help others learn on the job.
Need to have a keen eye-for-detail and an excellent ability to proofread.
Strong writing skills and ability to adapt to different styles and voices.
Experience with data management using Excel, Google Sheets, databases, etc.
Basic HTML Required, CSS experience a plus.
Experience with Canva and/or Adobe Design products is strongly encouraged.
Experience managing a social media account (Facebook/Twitter) a plus but not required.
Day to day duties may include but are not limited to:
Coordinate with other staff, interns and contract consultants to ensure the best work product is delivered to clients. Keep the "trains running on time."
Write copy for fundraising and engagement emails.
High responsibility on proofreading and other quality assurance checks to ensure copy is free of typos and other errors.
Produce HTML samples of approved email copy in multiple CRMS, which can include creating landing pages for fundraising and petitions.
Lead and participate in weekly conference calls with clients.
Create, update, and maintain client specific checklists.
Track metrics and manage analytics for delivery to clients
Ensure weekly reports for clients are accurate and promotional of NBI work.
Work in conjunction with the Ads department to ensure that the client product includes Ads of the highest caliber.
Manage peer-to-peer texting programs as needed.
Manage SMS broadcast texting program as needed
Work in conjunction with the graphic design department to ensure that the client product includes graphics of the highest caliber.
May utilize social networking platforms to deliver client messaging and for other purposes.
Thoroughly understand and utilize Google Team site for document sharing.
Participate in training seminars and/or webinars as required.
Track breaking news and topical issues for use in client messaging.
Perform other duties as assigned by management.
Equal Employment Opportunity
NBI provides equal employment opportunity (EEO) to all employees and applicants for employment without regard to race, color, religion, gender, sexual orientation, gender identity or expression, national origin, age, disability, genetic information, marital status, amnesty, or status as a covered veteran in accordance with applicable federal, state and local laws.
Salary range $50k – $60k, based on experience and qualifications. Raises, bonuses and profit sharing are also available. New Blue Interactive does not and shall not discriminate on the basis of race, color, religion (creed), gender, gender expression, age, national origin (ancestry), disability, marital status, sexual orientation, or military status, in any of its activities or operations.
In addition to holidays, vacation and sick leave, New Blue offers a generous benefits package for full-time employees including 100% medical coverage, an employer-matched medical Flexible Spending Account (FSA), employer sponsored life insurance, and a 401k benefits program with employer matches up to 4%, monthly technology stipend, work equipment for home offices and professional development opportunities.
To Apply: newblueinteractive.com/apply